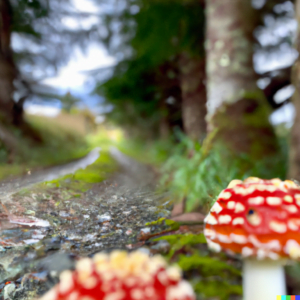 The History and Cultivation of Amanita Mushrooms
The Mystical World of Amanita Mushrooms
Amanita muscaria, also known as the sacred mushroom and fly agaric, has a rich history dating back to ancient civilizations such as the Vikings and Siberian shamans who used it as an edible mushroom for spiritual and physical purposes. With proper preparation, the active ingredients ibotenic acid and muscimol can be consumed safely to experience its psychotropic effects.
Dreamer Shrooms has combined traditional recipes with modern cultivation techniques to bring you the benefits of amanita muscaria (fly agaric) in convenient amanita gummie, capsule & powder forms. Our amanita muscaria is carefully grown, harvested, and processed in North America, South America, and around the world to ensure they are free from toxins and contains only the beneficial compounds including ibotenic acid, muscimol and alkaloids.
Our amanita muscaria products are designed to promote relaxation, mental clarity, and creativity, with potential benefits including improved mood, stress reduction, and overall well-being. They may also offer physical benefits such as pain relief, improved sleep, and increased energy levels. It is also important to consult with a healthcare provider before taking any new supplements, including amanita muscaria, to ensure their safety and effectiveness.
At Dreamer Shrooms, we are committed to bringing you the highest quality amanita muscaria (fly agaric) capsules in North America, allowing you to experience the benefits of this mystical mushroom. Whether you want to improve your mental and physical well-being or explore the spiritual and cultural history of amanita muscaria, our products are the perfect solution.
When consumed safely, amanita muscaria can offer a range of benefits. Dreamer Shrooms makes it accessible for everyone to experience the mystical world of amanita muscaria. Try it today and see the difference for yourself!
From Ancient Lore to Modern Medicine: The History of Amanita Mushrooms
Amanita muscaria (fly agaric) has a rich and intriguing history that spans centuries. Its use in religious ceremonies as a sacrament by ancient indigenous cultures and its recent resurgence as a natural remedy for various ailments in modern medicine are testament to its timeless significance. The effects of amanita muscaria can be experienced hours after ingestion, making it a valuable addition to anyone's natural wellness routine.
The indigenous people of Siberia and northern Europe have used amanita muscaria as an edible mushroom for centuries, believing that consuming the mushroom brought one closer to the spiritual world.
While considered a poisonous mushroom for some time with unconfirmed reports of mushroom poisoning, now amanita muscaria (fly agaric) has been rediscovered as a natural remedy for a range of physical and mental health issues in North America and around the globe. The compounds found in the mushroom, including muscimol and ibotenic acid, have been shown to have a positive effect in many ways when prepared and dosed correctly.
At Dreamer Shrooms, we are proud to offer amanita muscaria gummies, capsules & powder  to those seeking the benefits of this amazing mushroom. Our products are made from high-quality, wild-harvested amanita muscaria (fly agarics) and are carefully processed to maintain the potency and purity of the mushroom's active compounds.
We believe that the natural power of amanita muscaria should be accessible to everyone, and that is why we have made it our mission to provide the highest quality amanita muscaria products on the market. Whether you are looking for relief from physical discomfort or seeking a spiritual connection, our amanita muscaria capsules can help you achieve your goals.
At Dreamer Shrooms, we are dedicated to providing our customers with the best possible experience. Our knowledgeable team is always available to answer any questions you may have, and our commitment to quality means that you can trust us to provide you with the best amanita muscaria capsules available.
So if you are looking for a natural way to improve your well-being and enhance your connection to the world around you, look no further than Dreamer Shrooms. Try our amanita muscaria (fly agaric) today and experience the benefits for yourself!
Cultivating Amanita Pantherina, Regalis, and Muscaria Mushrooms: A Guide
Amanita muscaria is a type of mushroom that has been used for centuries for its therapeutic and beneficial properties. In recent years, scientific studies have confirmed the numerous benefits of amanita muscaria, including its ability to improve brain function, reduce stress, and enhance physical performance.
At Dreamer Shrooms, we cultivate and prepare the active ingredients from three specific types of amanita muscaria mushrooms: Pantherina, Regalis, and Muscaria. These three mushrooms are carefully selected for their unique and potent properties, making our capsules some of the most effective and reliable on the market.
Cultivating amanita muscaria mushrooms requires a specific set of conditions to ensure the highest quality product. Our network of experts in North America, South America, and globally has perfected the art of cultivating these mushrooms, providing the ideal environment for growth and ensuring that each mushroom is harvested at its peak. This results in a product that is both pure and potent, with the highest concentration of active ingredients.
In conclusion, if you're looking for a natural alternative to enhance your life, Dreamer Shrooms could be the right choice. Our amanita muscaria capsules are made from the highest quality ingredients. Try them today and experience the benefits for yourself!