Private Label Amanita Muscaria Wholesale with Dreamer Shrooms
👋 Hey there, visionary entrepreneurs and wellness aficionados! Ever daydreamed of launching your very own line of wellness products? 🌱 Guess what? It's not as daunting as it seems, thanks to the magical world of "Private Labeling!" 🌟
What on Earth is Private Labeling, Anyway?
Imagine walking into a bustling marketplace. You see rows of vendors selling all sorts of goods, but hey, some of them are actually selling the same thing, just packaged differently! That's private labeling in a nutshell—a way to put your unique branding on quality, pre-made products. You get to claim the accolades without the hassle of production. Sweet deal, right? 🍭
Meet Dreamer Shrooms, Your Trusty Guide Since 2017
Ever heard of Dreamer Shrooms? No? Well, prepare to have your mind pleasantly expanded! 🍄 We've been pioneers in the field of CBD wellness since 2017 (with a full line of CBD products available for private label as well). When it comes to crafting top-notch products that make both consumers and businesses rave, we're the pros you've been looking for. 🌈
CBD and Beyond: The Dreamer Shrooms Saga
If the name is not familiar, it's because we've been rockstars in the CBD private label manufacturing scene and most of our products are white labeled. Yep, we've brought the same dedication and expertise to the enchanting world of Amanita Muscaria and other delectable fungi. 🍄
So, hang onto your seats because we're diving deep into how you can start your dream wellness brand with Dreamer Shrooms' private label services. No unicorns were harmed in the making of our products—but we can't promise you won't feel like one after joining us on this journey! 🦄
Ready to find out more? Stick around; we promise it'll be a ride worth taking! 🎢
Why Choose Dreamer Shrooms for Amanita Muscaria?
Are you curious about what sets Dreamer Shrooms apart in the Amanita Muscaria game? The secret sauce is our unwavering commitment to quality, safety, and innovation. But don't just take our word for it—let's dive into the details.
Our Mission and Commitment to Quality
At Dreamer Shrooms, we believe that nature's gifts should be both accessible and safe. Our mission is to provide you with the most potent and pure Amanita Muscaria extracts, optimized for both efficacy and safety. Quality isn't just a buzzword for us—it's the foundation of our entire operation.
Our Exclusive Sources of Raw Materials
We've partnered with the industry's top suppliers to secure an exclusive source of the most potent and pure Amanita Muscaria mushrooms and extract available. These unique partnerships allow us to offer products that stand in a league of their own, setting the gold standard in amanita muscaria private label products.
What is Amanita Muscaria?
Before we get into the nitty-gritty of why Dreamer Shrooms is the best source for your private label Amanita Muscaria needs, let's take a moment to appreciate the star of the show—the Amanita Muscaria mushroom itself. If you're intrigued by the mystique surrounding this enigmatic mushroom, you're in the right place.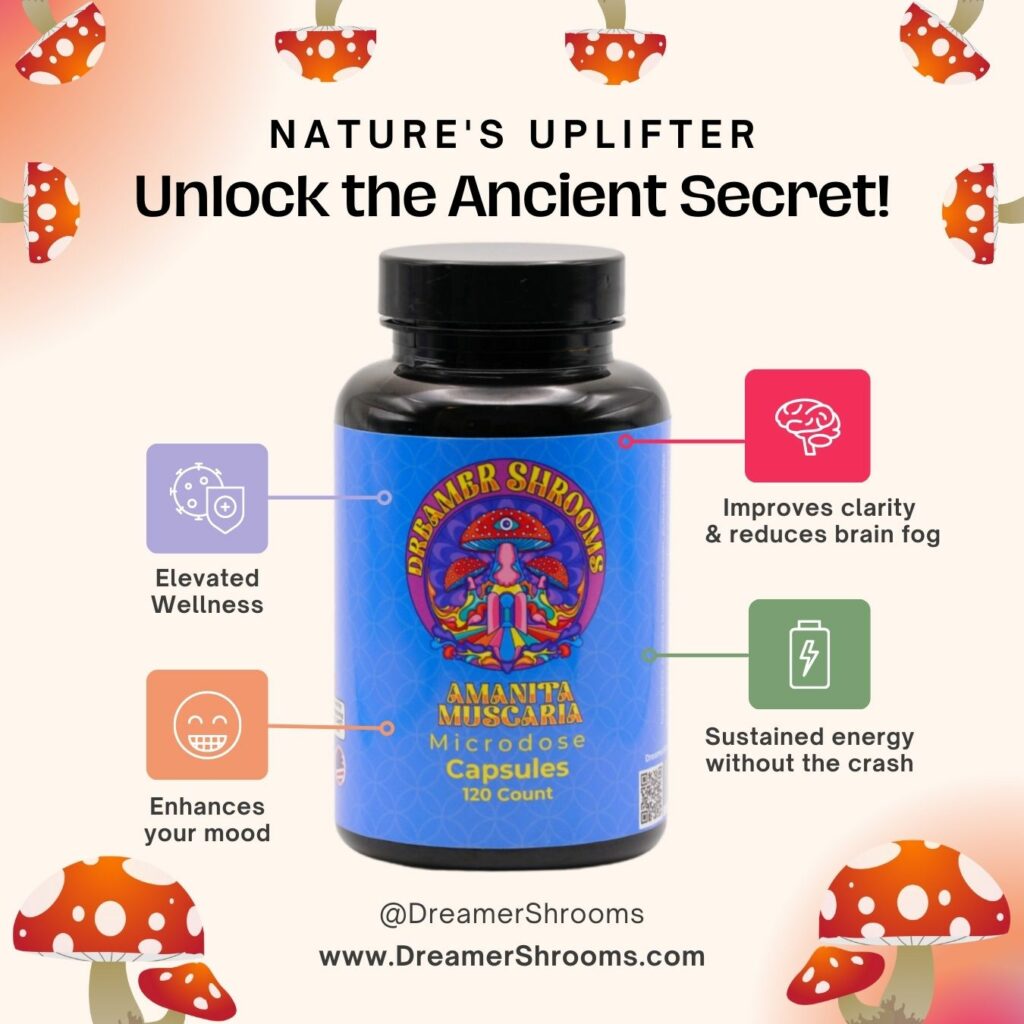 The Mystical Amanita Muscaria: A Brief History and Description
The Amanita Muscaria mushroom, often referred to as the "fly agaric," is steeped in history and folklore. Recognizable by its vibrant red cap and white spots, this mushroom has made frequent appearances in fairy tales, spiritual practices, and even pop culture. But it's not just a pretty face; the mushroom is rich in compounds that have been studied for their potential wellness benefits. With its roots in Siberian shamanism, the Amanita Muscaria mushroom has journeyed through time and geography to earn its place in today's herbal and wellness scene.
Why Amanita Muscaria Matters in the Herbal and Wellness Industry
The Amanita Muscaria mushroom is creating a buzz in the herbal and wellness industry for a good reason. Beyond its vibrant appearance and rich history, the mushroom contains an array of compounds, including the often-discussed muscimol. These compounds have garnered attention from both researchers and holistic health practitioners, making Amanita Muscaria a rising star in the world of natural supplements.
So why does all this matter to you? Because when it comes to choosing a supplier for your private label Amanita Muscaria products, you'll want a partner who not only understands the market trends but also values the intrinsic qualities that make this mushroom truly special. And that's where Dreamer Shrooms comes in. Stay tuned to learn how we can help you tap into this burgeoning market with unparalleled quality and expertise.
Product Range: Unveiling Dreamer Shrooms' Treasure Trove of Amanita Muscaria Goodness
So, you're excited about the world of Amanita Muscaria and all its wellness-promising majesty. But maybe you're wondering, "What types of products can I actually get?" Wonder no more! Dreamer Shrooms has curated an extensive line of top-quality Amanita Muscaria products that you can proudly feature under your own brand name.
The Dreamer Shrooms Amanita Muscaria Catalog: What We Offer
Capsules: Convenient, pre-measured, and perfect for those always on-the-go.
Gummies: Delicious and easy to consume, these are a hit with all age groups.
Tinctures: Highly concentrated and quick to absorb—ideal for those seeking fast effects.
Powder: Versatile and easily blendable, great for adding to shakes, smoothies, or your morning coffee.
Bulk Powder and Extracts: For the big dreamers out there looking to create their own unique formulations.
Each of these offerings is created with the utmost care and attention to detail, ensuring that the essential compounds found in Amanita Muscaria are preserved in every product.
| Product Type | Best For | Private Label Available? |
| --- | --- | --- |
| | Convenience and Precision | |
| | | |
| | | |
| | | |
| | | |
Private Labeling: Your Brand, Our Quality
So, you've got a killer brand, and you're looking to extend your product line with some Amanita Muscaria goodness. Dreamer Shrooms makes it easy with our private label services. Imagine having high-quality Amanita Muscaria products, whether it's capsules, gummies, tinctures, or powders, emblazoned with your brand name. It's not just about slapping a label on a bottle; it's about providing your customers with products that they can trust—products that have been crafted with care, science, and an unwavering commitment to quality.
If you're thinking about entering the dynamic world of Amanita Muscaria, why not do it with a partner who's been at the forefront of herbal wellness since 2017? Whether you're an industry veteran or a passionate newcomer, Dreamer Shrooms is here to make your Amanita Muscaria dreams come true.
Quality Assurance: Because Your Trust Is Our Most Valued Asset
At this point, you're probably getting the picture that Dreamer Shrooms is not your run-of-the-mill supplier. We're committed to elevating the Amanita Muscaria game, and central to that commitment is an obsession with quality. But let's get specific, shall we? Because when it comes to your brand and your customers, "trust us, it's high quality" just isn't going to cut it.
Quality Control Measures: Where Science Meets Nature's Best
Quality control is not an afterthought for us; it's the blueprint for everything we do. From sourcing our raw materials to the final testing of our products, each step is meticulously planned and executed to ensure top-notch results. Our state-of-the-art facilities are designed to meet the strictest industry standards, and our team of experts continuously monitor the production process for consistency and potency.
Safety First: Eliminating the Nasty Stuff
Safety and quality go hand in hand. We know that Amanita Muscaria offers a treasure trove of wellness benefits, but it also comes with its share of undesirable compounds like ibotenic acid and heavy metals. Worry not! Dreamer Shrooms' process is specially designed to remove these harmful substances.
The result? A product line that not only meets but often exceeds industry safety standards. You can confidently offer your customers Amanita Muscaria products that are not just potent but also impeccably safe.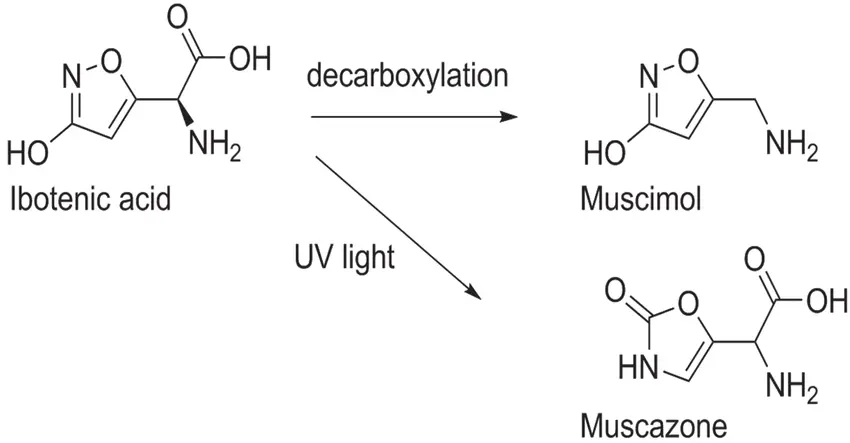 Quality and Safety Highlights
Rigorous third-party testing for every product batch
Proprietary extraction methods to eliminate ibotenic acid and heavy metals
State-of-the-art manufacturing facilities that adhere to Good Manufacturing Practices (GMP)
A team of experts who live and breathe quality assurance
When you choose to partner with Dreamer Shrooms for your private label Amanita Muscaria needs, you're not just getting a product; you're getting peace of mind. We believe that quality assurance isn't just a department in our company—it's our entire ethos. Choose quality, choose safety, choose Dreamer Shrooms.
The Private Labeling Process: Your Brand, Our Expertise
When it comes to private labeling, we understand that one size does not fit all. Your brand has its unique identity, and we are here to help you build upon it. That's why Dreamer Shrooms offers a simple yet highly flexible private labeling process. We'll work with you every step of the way, providing you with a variety of customizable options so that the end product not just meets but exceeds your expectations.
Your Step-by-Step Guide to Dreamer Shrooms' Private Label Process
We're not just handing you a product and saying "good luck." We offer a comprehensive, step-by-step guide to ensure a seamless transition from product conception to market-ready marvel.
Step-by-Step Private Labeling Process
| Step | Process Detail | Turnaround Time | Customizable? |
| --- | --- | --- | --- |
| | | | |
| | | | |
| | | | |
| | | | |
| | | | |
| | Quality Control & Testing | | |
| | Final Approval & Shipping | | |
Our transparent and agile approach ensures that you're involved in every step, right from the get-go. If you want your products drop-shipped, you guessed it, we can do that too!
Customizable Options and Minimum Order Quantities
The customization doesn't stop with the initial consultation. Dreamer Shrooms offers a variety of options when it comes to product type, potency, and even packaging. And the best part? Our minimum order quantities are designed to make it easy for brands of all sizes to get started.
Product Type (Capsules, Gummies, Tinctures, Powders, Bulk Powder, and Extracts)
Potency Levels
Label Design
Packaging Choices
We are here to adapt to your needs, not the other way around. From small boutiques to large-scale operations, we have solutions that fit all.
So, whether you're a fledgling brand looking to make a splash in the world of wellness or a seasoned business aiming to expand your portfolio, Dreamer Shrooms' private labeling process is designed with you in mind. Your brand, your way—powered by the unrivaled quality of Dreamer Shrooms.
Why Private Label Amanita Muscaria? The Smart Choice for Your Brand
If you're still wondering why private labeling could be your ticket to success in the wellness industry, we've got your answers right here. Private labeling isn't just about slapping your brand name on a product; it's about tapping into an existing infrastructure and expertise to propel your brand to the next level. Let's delve deeper into the major benefits of opting for private labeling with Dreamer Shrooms.
The Benefits: More Than Just a Name on a Label
Choosing to private label Amanita Muscaria with Dreamer Shrooms allows you to sidestep the lengthy and often complex journey of product development. Why reinvent the wheel when you can benefit from our proven formulations and manufacturing processes?
Ease of Entry: Starting from scratch involves sourcing raw materials, product development, testing, and more. With private labeling, most of these steps are already taken care of.
Access to Expertise: Leverage our years of experience in CBD manufacturing and now, in Amanita Muscaria extraction, to ensure that your products are of the highest quality.
Customization: Although the core product is pre-made, you still have control over branding, potency, and even certain aspects of the formulation.
Financial Incentives: The Quick and Cost-Effective Route
Let's talk numbers. Private labeling isn't just convenient; it's also financially prudent.
Lower Costs: Avoid the exorbitant costs associated with R&D, testing, and initial manufacturing. Our established processes mean we can produce your products at a fraction of what it would cost to do it all yourself.
Quicker Time to Market: In today's fast-paced world, time is money. By cutting down the time spent in the development phase, you can get your products on the shelves while the market is hot.
Economies of Scale: As your brand grows, so can your orders—and with larger orders come better pricing options.
At Dreamer Shrooms, we offer more than just a product. We offer a full-fledged, financially-savvy partnership designed to elevate your brand in the wellness industry. So why start from scratch when you can hit the ground running? Your brand deserves nothing less than the fast-track to success that private labeling Amanita Muscaria with Dreamer Shrooms can provide.
Expansion into Other Mushroom Varieties: Beyond Amanita Muscaria
The world of functional mushrooms extends far beyond Amanita Muscaria, and so do our offerings at Dreamer Shrooms. We're not a one-trick pony; we're a comprehensive solution for any brand looking to make a substantial impact in the mushroom wellness market. Read on to discover our exciting range and custom formulation possibilities.
An Array of Mushroom Wonders
Yes, Amanita Muscaria is our flagship product, but we're equally passionate about other marvels of the fungal kingdom, like Lion's Mane and Cordyceps. And the best part? These can be private labeled too!
Unique Blends for Unique Needs
Energy Blend: Looking for something to give your consumers that natural energy kick? Our Energy Blend combines the brain-boosting effects of Lion's Mane with other botanicals for a full-spectrum experience.
Microdose Blend: Interested in the burgeoning field of microdosing? Our Microdose Blend offers a balanced composition that's perfect for those new to the concept or experienced users looking for a trustworthy source.
Beauty Blend: The benefits of Cordyceps extend beyond just internal health. Our Beauty Blend is crafted to give your skin that natural glow while working wonders from the inside out.
Custom Formulations: The Sky's the Limit
Dreamer Shrooms takes pride in being a flexible and responsive partner. If you have a vision for a unique formulation, we're here to make it a reality. With our expertise in blending and sourcing, your customized mushroom-based product is just a conversation away.
With Dreamer Shrooms, you can tap into the lucrative mushroom wellness market without limitations. From Amanita Muscaria to Lion's Mane and Cordyceps—and everything in between—we're your one-stop-shop for the highest quality, private label mushroom products. So why limit yourself? Expand your brand's horizons with Dreamer Shrooms today.
Conclusion: Join the Dreamer Shrooms Revolution!
So, you've made it this far, and you're probably wondering, "What's the final word?" Simply put, when it comes to private label Amanita Muscaria wholesale, Dreamer Shrooms is the gold standard. Let's put a cherry on top and recap why we're your dream partner in mushroom wellness.
Dream Big, Choose Dreamer Shrooms
Why settle for anything less when you can have it all? From quality control and product diversity to our exclusive high-potency Amanita Muscaria extracts, Dreamer Shrooms is a cut above the rest. No one else offers this unique blend of quality, flexibility, and innovation.
Built on Experience, Driven by Commitment
With a track record dating back to 2017 and an extensive background in CBD manufacturing, our experience speaks for itself. Our promise to you: an unwavering commitment to quality, safety, and world-class customer service.
Got a brilliant idea for a custom mushroom blend? Or maybe you want to dive into the details of our minimum order quantities? We can't wait to hear from you and explore how we can elevate your brand.
So, are you ready to dream big with Dreamer Shrooms? Reach out today and let's get this party started! 🌟
Private Label Contact Form: